We are developing an automated tool kit for concrete monitoring
---
---
For cost reasons,
the contractors need to optimize the construction phases while ensuring the reliability of the structure.
The quality requirements are getting stronger and stronger  and the maintenance must be cost effective.
---
Our goal is to provide a low cost on-line monitoring system for assessing the concrete quality from very early age, and to very long term.
Faster and Stronger
Assistance for Construction Phases

Our first aim is to help the contractors to optimize the construction phases while preventing appearance of cracks.

Safer and Longer
Long Term Monitoring System

Our second aim is to help the infrastructure operators to ensure the reliability of the structure while optimizing the cost.

Insured
Guarantee Label

Our third goal is to guarantee the quality of the concrete in a given structure.
In summary
Quality & Efficiency
Improved

Safety Ensured

Cost
Reduced
---
The system consists in ultrasonic measurements based on low-cost embedded piezoelectric transducers.
In a nutchell, the system relies on an emitter and a receiver. An ultrasonic wave is generated by the emitter and is caught by the receiver.
Compared to external transducers, embedding the transducers into the structure allows for
Performing in-situ & on-line measurements at any time from very early age and in presence of formworks


Measurements in unaccessible locations when the structure is is service, underwater or in hazardous and dangerous places

The automation and a better reproducibility of the measurements

An added flexibility of transducers arrangements and in the propagation paths

A better efficiency thanks to an enhanced coupling with the concrete (without coupling agents) for stronger waves  generation over longer paths

A better integration in the overall design of the structure

A better protection of the  transducers from environmental and accidental attacks
| | | | |
| --- | --- | --- | --- |
| | | | |
| Construction Phase | Long Term Monitoring | Unaccessible Places | Research |
The transducers are connected to a web platform which  processes the data to provide a real-time monitoring of the strength, the Young's modulus and the potential appearance of cracks.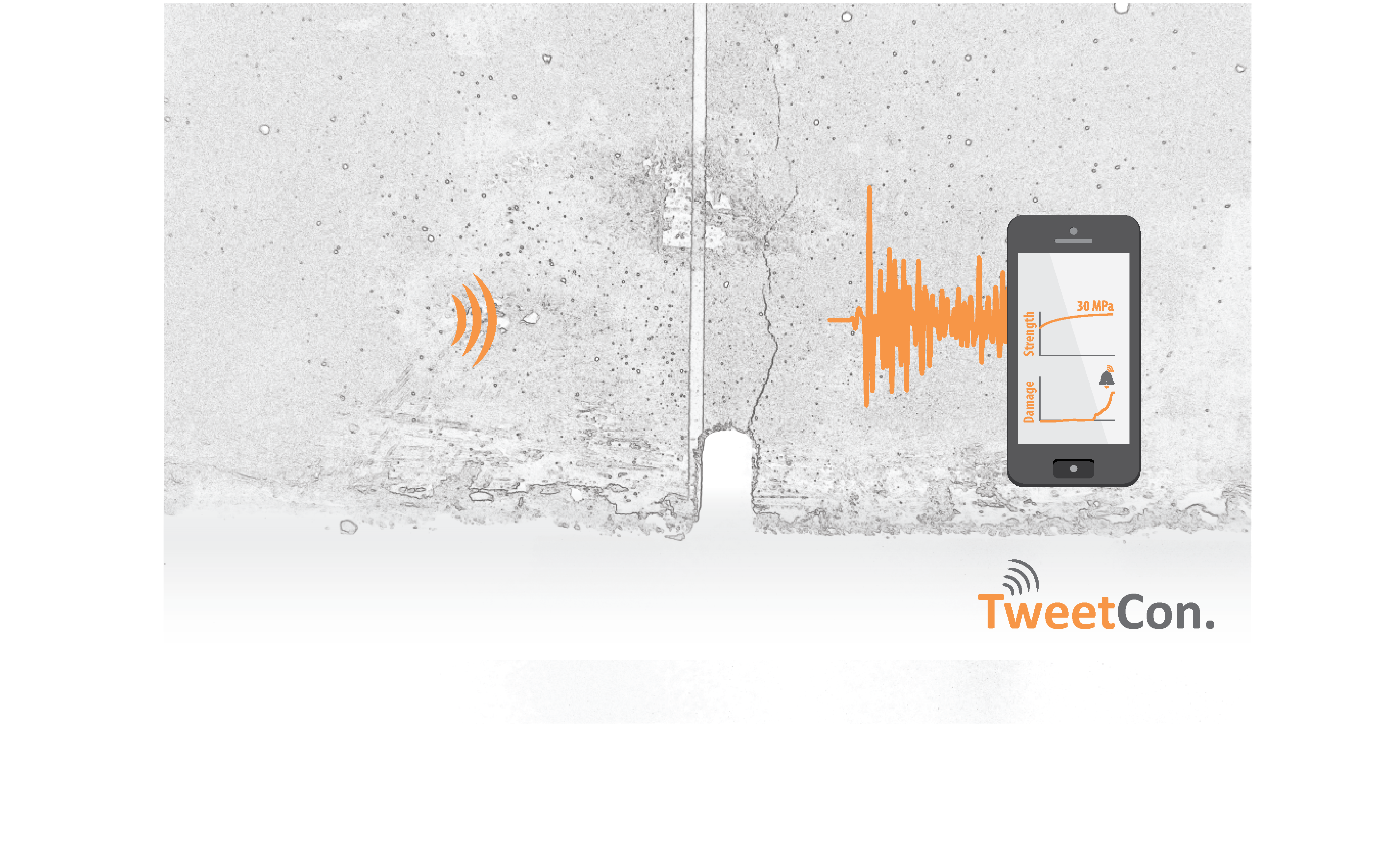 ---
TweetCon is situated at the crossroads of the state-of-the-art of monitoring methods
Set it all with one single monitoring system.